The rib-tickling, side-splitting San Franciscan comedian, Robin Williams, has touched the hearts and souls of millions across the world through his world-renown, award-winning films. Whether he be a kindhearted, generous genie from a Disney animation or a comedic radio man during Vietnam, his talents and skills truly shine through his colorful and animated performances on television, film, and stand-up.
Nevertheless, though Williams no longer is present on stage, the emotionally-gripping works he has left behind will surely be remembered for decades to come. Williams' comedic techniques and processes has been a source of inspiration for a multitude of today's greatest comedians, including Jimmy Fallon, Jim Carey, and Paul F. Tompkins. Legendary comedian and actress, Margaret Cho, states, "As an artist, Robin Williams represented the dizzy heights of brilliance we could aspire to. He was absolutely free and absolutely stunning – he could do anything and often did."
In honor of the legendary and much-missed comedic genius, here is a list of the 10 best Robin Williams movies ever created:
10
Dead Poets Society (1989)
Within the multi-award-winning film, Dead Poets Society, Robin Williams plays new English teacher, John Keating, at Welton Academy, a preparatory school for boys in Vermont. Though ancient traditions and high standards have stood the test of time at Welton, John hopes to break such barriers through his unconventional methods of teaching in order to truly connect with his students. With John's inspiring and motivating assistance, his students finally acquire the needed confidence in order to pursue their aspirations and goals to the best of their abilities.
9
Good Will Hunting (1997)
Good Will Hunting tells the story of Will Hunting, a young man who decides to work as a janitor at MIT, despite his genius-level intellect. However, Williams' character, Professor Gerald Lambeau, discovers the hidden intelligence of Will and decides to remind and reinvigorate the young man's lost potential. Through powerful and influential teaching, Professor Lambeau molds Will into one of success and emotional stability.
8
Good Morning, Vietnam (1987)
Williams plays Adrian Cronauer, a highly entertaining radioman who seeks to bring a form of comedic relief to the strung-out, emotionally-torn American soldiers fighting in the Vietnam War. However, though many enjoy Adrian's refreshing and insightful comedic skill, his superior officer, Sergeant Major Dickerson, finds Adrian's presence to be both unneeded and bothersome. Though Sergeant Dickerson attempts at silencing the loud and booming voice of the beloved radio voice, Adrian faces and works through his adversity, learning a great deal about himself and the horrors of the Vietnam War. 
7
Mrs. Doubtfire (1993)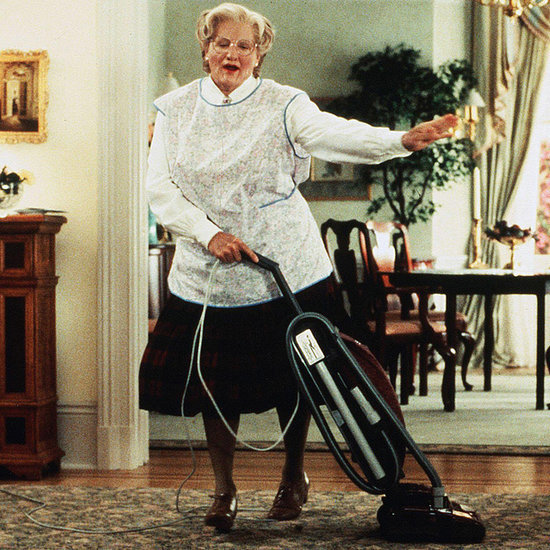 Williams' character, Daniel Hillard, works as a troubled divorcee who longs for nothing more than greater access to his children. Nevertheless, Daniel hatches a risky, but ingenious idea in order to overcome these struggles. Through the assistance of his brother, Frank, Daniel disguises himself as an older British nanny who is then hired shortly after by his ex-wife, Miranda. As "Mrs. Doubtfire," Daniel learns a multitude of valuable lessons about being a supportive and compassionate parent and husband.
6
Aladdin (1992)
Making use once again of his fun-loving and playful attributes, Williams plays Genie, a wish-granting, supernatural creature that seeks to assist Aladdin on his quest for the admiration of Princess Jasmine. Nevertheless, both Genie and Aladdin underestimate and overestimate the power of the supernatural. Through the help of Genie's magical powers, Aladdin realizes the true meaning of love and friendship.
5
Hook (1991)
Hook tells the thrilling story of grown-up Peter Pan, played by Williams. When Captain Hook abducts the children of this middle-aged lawyer, Peter must recapture his lost youth, revisiting many of the ghosts and ghouls he left behind at Neverland. With the help of faith, trust and pixie dust, Peter embarks upon an epic adventure with his old companions, such as the Lost Boys and Tinkerbell.
4
Jumanji (1995)
When two children, Peter and Judy Shepherd, stumble upon an antiquated, jungle-themed board game, both are utterly stunned at what lies within its cardboard box walls. As both Peter and Judy begin to play, they unleash long-time prisoner, Alan Parrish, acted by Williams, who has been lost in the game for years. With the help of Alan, Peter and Judy have the ability to give Alan the freedom he so desires if they win the game. If not, dyer consequences are to occur for not only Alan, but Peter and Judy as well.
3
Night at the Museum (2006)
Williams acts as the brought-to-life sculpture of President Theodore Roosevelt in Night at the Museum. When a night watchman realizes that a museum of natural history is more than just ancient artifacts and clay statues, Theodore leads him into an exciting adventure filled with frightening elation and scandalous discoveries. With his comedic charm, Roosevelt works as unforgettable character within the film.
2
What Dreams May Come True (1998)
What Dreams May Come True is a heart-wrenching narrative of Chris Nielson, as acted by Williams, who dies in a car crash and relives his life in the afterlife. With the help of his spiritual guide, Albert, Chris discovers the stunning gorgeousness of the realm he now inhabits. However, when his wife, Annie, is sent to the hellish underworld for committing suicide, Chris ventures to save her, despite Albert's warnings. However, such an adventure proves to be far more difficult than Chris imagined.
Source
1
Boulevard (2014)
Williams' final work, Boulevard, has the comedic actor portraying a rather serious and saddening role. Though a married man, Nolan Mack has been suppressing his sexual identity for decades. However, he finally gives in to his romantic desires when he picks up a male prostitute. Be that as it may, unlike most clients, Nolan pays for the companionship of the prostitute, not sex.
The beloved comedic actor will never be forgotten in the realms of Hollywood film. His unique ability to bring life to even the most unsuspecting characters makes Williams an ingenious performer that is both noteworthy and significant.